Main content starts here, tab to start navigating
West Ashley Menus
Slide 1 of 4
Slide 2 of 4
Slide 3 of 4
Slide 4 of 4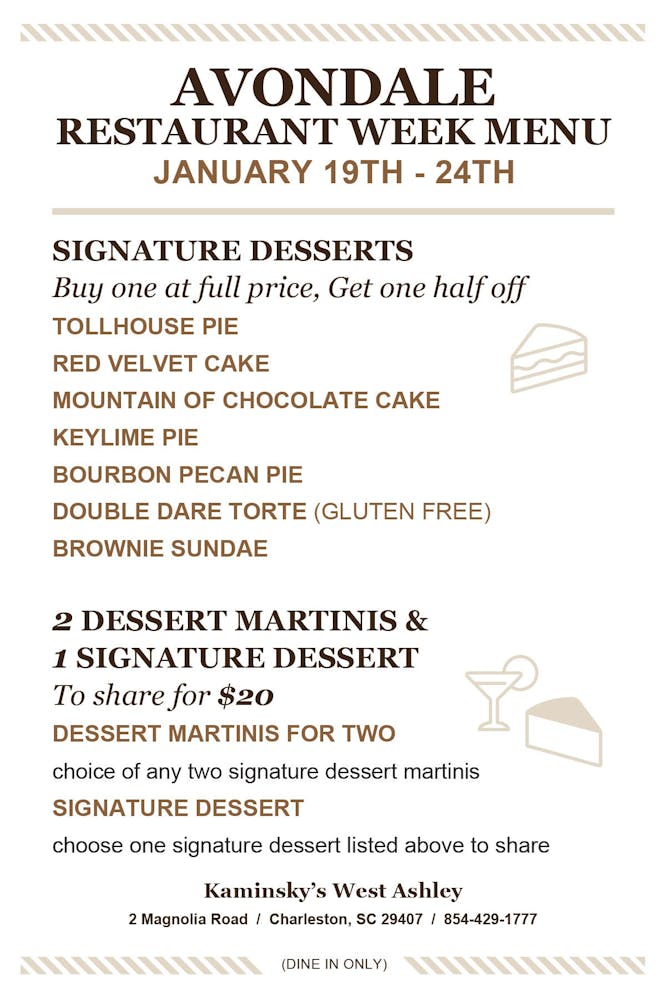 Prepared fresh daily by our pastry chefs and changed numerous times throughout the day. | Please explore our dessert case located near the front door for today's selections |
By The Slice: 2 Layer Cake 6.50 • 3 Layer Cake 7.25 • Pie 5.95 • NY Cheesecake 6.50 • Flavored Cheesecake 7.00 • Cobbler 6.50
Add a scoop of Greenwood vanilla bean ice cream to any of our desserts to make it a la mode +1.50
Specialty Coffees
King Bean Coffee; Hot, Iced, Regular, Decaf
House Blend

Medium roasted Central & South American proprietary blend

$3

Café Au Lait

Half steamed milk, half coffee

$3.50

Cappuccino

Double shot of espresso, frothed milk, cinnamon

$4

Café Latte

Double shot of espresso, steamed milk
Flavors: (*Also available in Sugar-Free) Mocha, White Chocolate, *Vanilla, *Caramel, *Hazelnut
All Flavors topped with whipped cream

$4.25

Add a recommended flavor $0.50

Espresso

Regular or decaf

single $2.50

double $3

Macchiato

Single shot of espresso, frothed milk

$2.50

Americano

Double shot espresso, hot water

$3

Shot in the Dark

Half espresso, half hot coffee

$3.50

Cuban Coffee

Double shot espresso, sugar in the raw

$3
Steamers, Teas & Ciders
Chai Tea Latte

Creamy blend of honey, tea, exotic spices & milk

$3.50

Hot Tea

Classic & herbal teas

$3.50

Hot Apple Cider

Cinnamon Stick

$3

Hot Chocolate

Dutch Cocoa, whipped cream, chocolate shavings
Flavors: Banana, raspberry, mint

$4

Add a recommended flavor $0.50

Add espresso $1

Hot Kaminsky

Hazelnut and steamed milk

$4

Add espresso $1

Toasted Marshmallow

Irish cream, caramel, steamed milk

$4

Add espresso $1
Hot Spirited Specialties
Topped With Whipped Cream & Available in Decaf
Irish Coffee

Coffee, Irish whiskey, turbinado sugar

$7

Hot Buttery Chocolate

Hot chocolate, butterscotch schnapps

$7

Peppermint Pattie

Hot chocolate, peppermint schnapps

$7

Snow Cap

Cappuccino, Irish cream liqueur

$7

Kioki Kaminsky

Coffee, chocolate, Kahlua, brandy

$8

Nutty Irish

Coffee, Irish cream liqueur, hazelnut liqueur

$8

Coffee Velvet

Coffee, Kahlua, amaretto liqueur

$8
Sundaes
Ice Cream Sundae

Three scoops of vanilla bean ice cream, chocolate sauce, caramel, whipped cream, tuile cookie, cherry, & choice of 1 topping.

$6.50

Brownie Sundae

Three scoops of vanilla bean ice cream, dutch cocoa brownie served warm, vanilla bean ice cream, chocolate sauce, caramel, pecans, whipped cream and a cherry on top.

$7.50

Cookie Sundae

Two warm homemade chocolate chip cookies, two scoops vanilla bean ice cream, chocolate chips, chocolate sauce, whipped cream.

$7.50

Toppings: Oreo, Heath Bar, Butterfinger, Reese's, Chocolate Chips, Sprinkles, Pecans

Add additional toppings $1
Cold Beverages
Milk

Whole, 2%, Skim, Soy, Almond

$3

Ibc Root Beer

$4

San Pellegrino

$3.50
Milkshakes
Three Scoops of Greenwood Vanilla Bean Ice Cream, Topped with Whipped Cream
The Original Milkshake

Vanilla bean ice cream
Choice of Chocolate, Vanilla or Strawberry

$6

Espresso Milkshake

Vanilla bean ice cream, single shot espresso

$7

Candy Bar Shake

Vanilla bean ice cream
Choice of Heath Bar, Butterfinger, or Reese's

$7

Cookie

Vanilla bean ice cream
Choice of Oreo or Wafer cookie

$7

Mint Chocolate Chip

Vanilla bean ice cream, mint, chocolate sauce, and chocolate chips

$8

Birthday Cake

Vanilla bean ice cream, homemade white cake, rainbow sprinkles

$8

Banana Pudding

Vanilla bean ice cream, banana, wafer cookies

$8

Salted Caramel

Vanilla bean ice cream, pretzels, caramel, sea salt

$8
Floats
Two Scoops of Greenwood Vanilla Bean Ice Cream
Coke or Root Beer Float

$5

Cappuccino Float

Vanilla bean ice cream, iced espresso, milk, whipped cream, cinnamon

$5

Affogato

One scoop vanilla bean ice cream, hot espresso

$4
Kids
Ages 12 & Under
Kids Milkshake

Two scoops of vanilla bean ice cream. Choice of Chocolate, Vanilla, Strawberry

$4

Kid's Ice Cream Sundae

Two scoops of vanilla bean ice cream, chocolate sauce, caramel, whipped cream, tuile cookie, cherry, & choice of 1 topping

$4.50

Kid's Float

One scoop vanilla bean ice cream and your choice of Coke or Root Beer

$3.50

Toppings: Oreo, Heath Bar, Butterfinger, Reese's, Chocolate Chips, Sprinkles, Pecans.

Add additional toppings $1
Signature Dessert Martinis
All Dessert Martinis $10
Kahlua Espresso

Kahlua, vanilla vodka, chilled espresso, chocolate rim

Chocolate

Van Gogh chocolate vodka, Godiva chocolate liqueur, vanilla vodka, splash of cream, cocoa rim

Key Lime Pie

Licor 43, lime juice, splash of cream, lime wedge, graham cracker rim

White Chocolate Raspberry

Godiva white chocolate liqueur, vanilla vodka, raspberry, splash of cream, white chocolate shavings

Thin Mint

Vanilla vodka, Irish cream, mint, splash of cream, chocolate rim

Toasted Almond

Kahlua, amaretto liqueur, splash of cream, chocolate sauce

Creme Brulee

Kahlua french vanilla liqueur, Irish cream, housemade caramel sauce, and a pinch of cocoa

Pineapple Mango

Svedka pineapple mango vodka, orange juice, grenadine

Blush

Vodka, peach schnapps, lychee juice, cranberry juice, champagne
*IMPORTANT NOTE FOR PICKUP/DELIVERY: All employees preparing your food are adhering to strict sanitation guidelines. All food product is being handled and prepared with gloves and overseen by a ServSafe certified staff. If ordering pickup, we do offer CONTACTLESS CURBSIDE pickup. Please call when you arrive, identify your vehicle, and pop your trunk. We will secure your food and send you on your way!
PIES
BOURBON PECAN PIE

Southern classic, served warm

$5.95

COCONUT CREAM PIE

creamy coconut filling, whipped cream, toasted coconut

$5.95

KEY LIME PIE

Key lime custard baked in a graham cracker crust and topped with whipped cream

$5.95

TOLLHOUSE PIE

Kaminsky's signature pie. Cookie dough, pecans, caramel sauce, chocolate sauce, served warm

$5.95
CAKES
NEW YORK CHEESECAKE

traditional, creamy cheesecake, graham cracker crust

$6.50

MOUNTAIN OF CHOCOLATE CAKE

the name says it all. 3 layers, chocolate buttercream icing

$7.25

RED VELVET CAKE

one of our most popular cakes. 3 layers, enhanced with cocoa powder, cream cheese icing

$7.25
Special Occasions call for something Sweet!
Please call to place your order or fill out the order form and give it to a manger or pastry chef at this location. (854) 429-1777
Please allow 48-hours advance notice.
Download PDF
CAKES - 3 LAYER
$55
RED VELVET

MOUNTAIN OF CHOCOLATE

HUMMINGBIRD

CARROT

OTHER
CAKES - 2 LAYER
$45
OREO DREAM

CHOCOLATE RASPBERRY

COCONUT CREAM

SNICKERDOODLE

FUNFETTI

OTHER
FLAVORED CHEESECAKES
$50
BUTTERFINGER

OREO

PEANUT BUTTER

RASPBERRY SWIRL

OTHER
GLUTEN FREE
$45
TRIPLE TROUBLE CHOCOLATE TORTE

CHEESECAKE
BRUNCH ITEMS
QUICHE

$30

MUFFINS

DOZEN $16

SCONES

DOZEN $18

CHEDDAR & CHIVE BISCUITS

DOZEN $18
CUSTOM CAKES
All 2 layer and 3 layer cakes can be filled with a variety of fillings (contact pastry chef for filling options)
SELECT A SIZE

2 LAYER ROUND 9" $45

3 LAYER ROUND 9" $55

1/2 SHEET CAKE $50

FULL SHEET CAKE $100

OTHER

SELECT A CAKE FLAVOR

VANILLA

CHOCOLATE

RED VELVET

CARROT

HUMMINGBIRD

BANANA

APPLE

FUNFETTI

OTHER

SELECT AN ICING

VANILLA BUTTERCREAM

CREAM CHEESE

CHOCOLATE BUTTERCREAM

OTHER
PIES - 9 INCH
$30
KEY LIME

TOLLHOUSE

BOURBON PEACON

COCONUT CREAM

OTHER
MOUSSE PIES - 10 INCH
$30
BLUEBERRY CREAM

BANANA CREAM

CARAMEL TOFFEE

CHOCOLATE

OTHER
CLASSIC FAVORITES
$3 EACH, $32 DOZEN
BROWNIES

CHOCOLATE CHIP COOKIES

CUPCAKES*

*minimum 1 dozen order